On Saturday, November 10, 2018 at Ko-Fusion our lunch program was presented by Prof. Pnina Motzafi-Haller, Ben Gurion University of the Negev, Israel, 8499000, a Visiting Professor 2018-19, University of Illinois at Urbana Champaign. Pnina was a recipient of the AAUW International fellowship in the 1980s. Her enlightening talk entitled "Are Botswana women feminists? Reflections on an African three-decade long encounter" was enjoyed by all. Two  AAUW Fellowship recipients who are attending the University of Illinois at UC attended and our three local Parkland College scholarship recipients attended.
Luncheon to Honor our four AAUW 50 Year Members was held on November 3, 2018 at 3 Ravens restaurant in Monticello. Mary Dailey was not able to attend. Several family members attended in addition to AAUW members and all enjoyed the fellowship and food.
See article in the News Gazette about Laura Keller, branch president and long time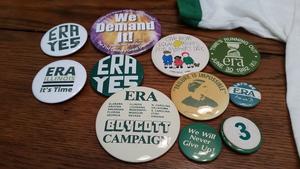 supporter of equal rights for women. Click here for article.
AAUW CU Local Scholarship Committee met June 4, 2018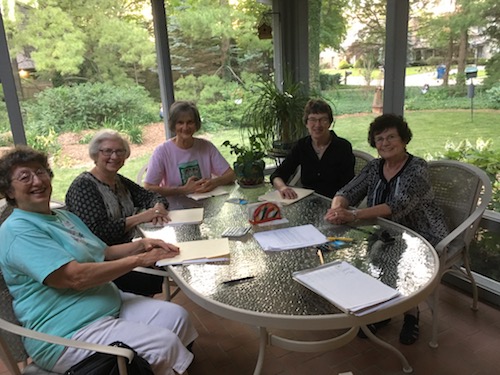 Members of Scholarship Committee are Elaine Peppers, Laura Keller, Deborah Richie, Sallie Miller, and Bette van Es. We met to select women students for our Parkland scholarships.
We did it! On May 30th, 2018 Illinois officially became the 37th state to ratify the Equal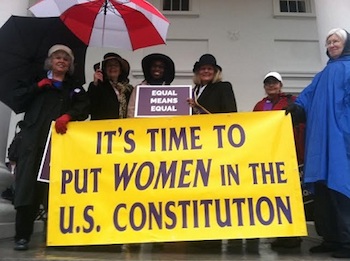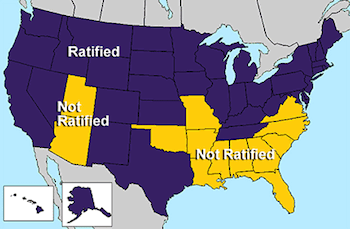 Rights Amendment!
Saturday, May 19, noon, Annual Meeting and Social We enjoyed our annual meeting at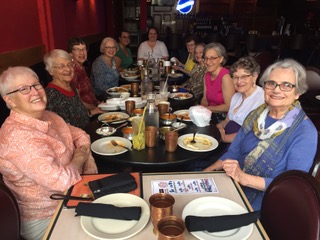 Kohinoor on Saturday.  Great food and great people!  We especially appreciated the chance to get to know our new members, Monica and Mary Jane, a bit more. 'Hope you all had a good time also and, perhaps, learned a little something too.
Sallie Miller and Laura Keller were at the ERA Rally and Lobby Day in Springfield on May 8,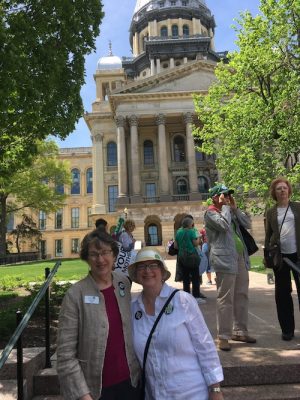 2018. Last time we did this was around 1980. Sigh… can't believe we're still fighting to put women in the Constitution.
Equal Pay Day Event – April 15, 2018
The program, which featured the documentary "Equal Means Equal", was held on April 15 at the Champaign Public Library. The Los Angeles Times review stated, "Director, actress and activist Kamala Lopez stumps for women's rights in her searing documentary 'Equal Means Equal'. With a ruthless, surgical approach, Lopez breaks down legal gender inequality in the United States, what she terms the War on Women. Lopez primarily attacks the laws, acts and legislation put in place to prevent gender discrimination that have been gutted and loopholed to death, rendering them useless in protecting women. In going after governmental issues such as equal pay, family leave, welfare and reproductive rights, she illustrates how the system fails women as it demands both their labor under capitalism and their social functions as mothers."
About 18 people attended the viewing including several guests. One of our guests wrote a letter to the News Gazette which was published on April 23 strongly objecting to the Gazette's editorial board that opined on April 16 that our Illinois Senate's vote to ratify the ERA is a mere "symbolic gesture" or, if you prefer, "legislative showmanship in Springfield." Her letter went on to say "Perhaps the board is simply misinformed, like 80 percent of recently polled, well-meaning Americans who believe women are already guaranteed equality under the law."