CU AAUW EXECUTIVE BOARD 2019-2020
 PRESIDENT                   Gail Tittle   217-377-9539      gatittle@gmail.com                             PROGRAM VP              Brenda Wilson  217-351-6456    bawilson@life.illinois.edu                            MEMBERSHIP VP        Laura Keller  217-840-8408          kellerla@comcast.net                           FINANCE VP                 Pam Erickson  217-840-4999     pam.k.erickson@gmail.com                    SECRETARY                   Monica Lannom  818-385-5375   chinead2@illinois.edu
AAUW Champaign-Urbana Branch History
Marion Talbot Award
Marion Talbot was accepted to Boston University (where her father was dean of the School of Medicine) in 1876. She graduated in 1880 and faced social ostracism because she had little in common with her girlhood friends, who had not gone to college. Furthermore, there was little opportunity for work outside of teaching. Marion's mother saw the problem and suggested that she and a friend, who was a graduate of Vassar, get in touch with other female college graduates. The result was a meeting of some 17 of them in Marion's home in Boston in November 1881. Following up on this meeting, a group of 65 women met in January and launched the Association of Collegiate Alumnae, the predecessor of the American Association of University Women now known as AAUW.
We are pleased to have Brenda Wilson as the 2018 Marion Talbot awardee.
Brenda Wilson has been an AAUW member since she received a National AAUW Doctoral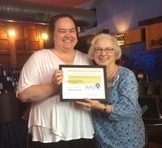 Fellowship at Johns Hopkins University in 1987. She became a member of the Champaign-Urbana branch in 2000 after moving to Champaign-Urbana. Since then she has been active as a leader on the Executive Board, serving as the Vice-President for Programs. Earlier this year she was a co-organizer of the Career Institute for Women held at the U of I and facilitated a closer link between our branch and the university community. Brenda wants the branch to know about the joy she gets from "…working with such wonderful women of AAUW to promote all women and girls".
Brenda holds degrees from Barnard College, Columbia University; Ludwig-Maximilians Universität München, Munich, Germany; Johns Hopkins University; and Harvard Medical School. She is currently a professor of microbiology at UIUC, holding appointments in several colleges. In 2017-2018, the U of I honored her with two awards for her excellence in teaching and her actions to promote diversity and inclusion.
Marion Talbot Awardees

2012 –  Phyllis Cline
2013 – Sallie Miller
2014 – Nancy Dietrich
2015 – Laura Keller
2016 – Deborah Richie
2017 – Gail Tittle
2018 – Brenda Wilson
2019 – Pam Erickson
 History of  AAUW C-U Branch 
1901 – organized, Champaign-Urbana is 2nd oldest branch in Illinois
1903 – purchased and developed a settlement house on Tremont Street, called Neighborhood House, later moving it to a room in the Lawhead School. It offered pre-school, sewing and cooking classes, and a library. For many years members bathed children who lived in homes without running water.
1917 – assisted in establishing a cooperative house for university women students
1923 – organized International Night to benefit University of Illinois foreign students
1937 – organized C-U Children's Theater, which became a separate organization in 1941 and continued until Krannert Center for the Performing Arts began to bring children's productions to the community.
1940 – arranged for English refugee children to be placed in member's homes
1945 – established Creative Writers' Group which continued until 2016
1956 – assisted in passage of referendum for fluoridation of C-U water
1959 – began Antique Show as major fund raiser for supporting higher education for women, continued on annual basis until 1993
1960 – established annual $500.00 name grant to the AAUW National Education Foundation in honor of a branch member's work
1960 – had monthly radio show on WILL 580AM called "Dear Madam", continued monthly until 1977
1962 – instrumental in making transition from PTA operated kindergartens to those fully funded by the public schools
1966 – researched and supported proposed East Central Illinois Technical Institute, Junior College later named Parkland College
1969 – established the Ida King Stevens scholarship at the University of Illinois for women who resume their interrupted education
1970 – established the Southwood—Van Es scholarship at Parkland College for women who resume their interrupted education
1974 – founded Friends of WILL
1980 – worked for passage of Equal rights Amendment
1997 – established !Adelante!, a diversity reading and discussion group
2000 – studied needs of hearing impaired children and established coalition with Carle, Carrie Busey, PACE, and Rantoul branch of AAUW, which led to the creation of Frances Lee Johnson Fund for the Hearing Impaired
2004 – began Wine, Women and Song event as fund raiser for Educational Foundation, Legal Advocacy Fund, and local scholarships
2006 – Laurel Prussing received AAUW-IL, Inc. Agent of Change Award for political activism in Illinois and her community
2006-2007 – organized public forums on the No Child Left Behind legislation
2008 – doubled the amount of dollars given for the Ida King Stevens scholarship and for the Southwood—Van Es scholarship
2009 – initiated branch website
2009 – gave an additional Janet Southwood – Bette van Es scholarship to Parkland College female student
2011 – named second Parkland College scholarship in honor of Amy Kummerow
2011 – began Great Decisions, a discussion group that uses materials from the Foreign Policy Association
2011 – began Drinks & Dialogue, a group that discusses current events of relevance to women
2012 – AAUW C-U initiated the Marion Talbot award
2014 – Nancy Dietrich received AAUW-IL, Inc. Agent of Change Award for expanding visibility of AAUW CU in the community by developing programs that promote equity for women, and through partnership with other organizations with similar missions.
2015 – increased Parkland scholarships to $1,000
2016 – added additional Parkland scholarship in memory of Phyllis Cline
2016 – Sallie Miller served as President of AAUW-IL for 2016-2018 term
2017 – discontinued the Ida King Stevens scholarship at the University of Illinois
2018 – provide $600 to support a woman college student from Illinois to attend AAUW National Conference for College Women Student Leaders (NCCWSL)
2018 – supported and celebrated passage of the Equal Rights Amendments by Illinois